In Street Art Zagreb's shoes: From Baby Steps To Giant Leaps
Have you noticed the increase in murals in Zagreb lately? The Zagreb street art scene has grown significantly in the last few years- everywhere you turn/look there is a mural with an interesting story. Some like it, others not so much. Some of the murals are incredible and inspiring, while others are not. Still, street art is growing in popularity and giving Zagreb a spark of uniqueness. Most European cities are becoming giant museums, and Zagreb is no exception.
I would say that murals can be more than just a painting on the wall. They can send a powerful message, or be a thank-you note to influential people in the past. Especially now, as spring is on its way, the sky is clear, and the sun is warming our faces while we are walking through the historical streets of Zagreb. It is a perfect opportunity to discover Street Art in Zagreb and learn about the story and artists behind them. So, through this article dive into the street art journey.
How it all started?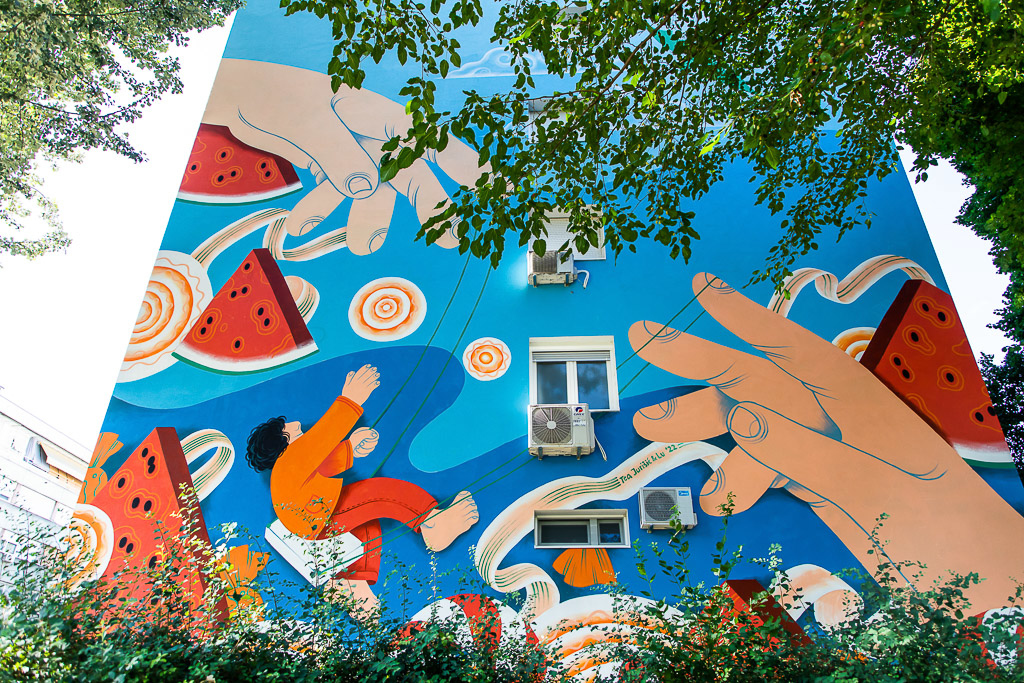 Photo credit: Fotografije Zagreba
First thing that crossed my mind when a friend showed me a mural was 'What is street art?, How did it all start?'
Well..the formal definition is that street art is a type of fine art that is created in public places. Some people associate it with independent art, post-graffiti, or neo-graffiti.
The history of street art is really interesting, and when I dived in I was positively surprised. Most of us probably think of murals as Dinamo supporters' drawings, or tags about love, like "I love you Valentina" randomly sprayed on buildings. However, did you know that Zagreb has a graffiti magazine? It was first published in 1995.
Since then, Street Art has grown and won over people's hearts. Now, we can see it even in the center of the city. We also know that everything can be monetized, so it is not strange to see graffitis made for a company like Zagrebacka bank, that commissioned a graffiti artist to paint a mural for the bank. From tags to art for companies - Street art has come a long way.
Photo credit: Fotografije Zagreba
Just as every movie has main actors, every song a lead singer, and every book a main character, Street Art has its renowned artists. Lonac, Chez 186, Oko, Lunar, Bare, Modul, Miron Milic, and others are well-known artists and have painted beautiful pieces around the city. Street Art Zagreb has established local artists, but we can not ignore the fact that international artists, such as French artist Etien, have also left a significant mark on the graffiti art scene in Zagreb.
However, if we roll the film all the way to the beginning, street art scene started with a duo- Lunar and 2Fast. They founded a YCP graffiti group and in 2022 celebrated their 30th birthday with an exhibition. The collective was founded in 1992 and now YCP includes 46 people from 23 cities. They have created the most astonishing, breathtaking art that you can admire in the streets of Zagreb. We have also heard some whispers about a book that will cover art from over three decades.
Must see location and well-known projects
One of the most famous locations you can see beautiful art is park Ribnjak. Local and international artists from Chicago, Lisbon, San Paulo, and Dortmund have left their mark, and given the boring gray walls a vibrant and fresh look. When exploring Street Art in Zagreb you must also visit the Strossmayer promenade and see the iconic whales and turtles. In New Zagreb, you can also see beautiful art marking the building of the Museum of Contemporary art and some old buildings.
Photo credit: Monika Jugović
The Street Art scene has created some popular projects. For example, Pimp My Pump where water pumps have been given a new life full of color and joy. The main goal was to make commuting a little bit more interesting. Underpasses and overpasses, roads, and key interchanges are now more attractive, and commuting is more interesting. This is not the end, it is just the beginning. I believe that Street Art will become even more popular in the years to come. Zagreb, as one of the urban centers of Europe, needs and craves the interrelated artistic, aesthetic, and social dimensions of public spaces.
Header photo credit: Fotografije Zagreba
Author: Monika Jugović