Singing Our Way Through December
Zagreb is all wrapped in the festive Christmassy atmosphere. If you walk around the town, you will see people mingling, taking pictures of the best photo spots in the city, holding a warm drink, and of course, music everywhere.
Music goes so well with the Christmas season, doesn't it? After all, the season hasn't properly started, if you haven't been Whammed, right? I don't know how we can all be so naive the first time in the season when we hear those jingle bells from All I Want For Christmas Is You. We all get so excited, completely forgetting that we will be listening to the tune dozens of times in the upcoming weeks until we can't take it anymore. December in Croatia is no different. Seasonal music everywhere, anytime. By anytime, I mean anytime throughout history.
A concert at Zrinjevac square. Photo by M.Mehulić, TZGZ
Advent period is the most singing part of the year in Croatia. Do you know that this small country has one of the largest collections of traditional Christmas carols in the world? Often, they are storytelling poems. They glorify the tale of the divine birth in a solemn atmosphere. One of them is Narodi nam se kralj nebeski (The Heavenly King is Born). We are all aware that it is a traditional song. Still, it's hard to imagine that it has been around for half of a millennium, at least. This song can be found in an anthology from 1593!
That particular song happened to be chosen for quite an experiment! A famous Zagreb inventor and a serial entrepreneur Slavoljub Penkala owned, among other things, a factory that produced gramophones and records Edison Bell Penkala. He was the first person to record Croatian voices, and he organized the first public recording in Europe. It happened on the 4th December 1927, almost 100 years ago. He published an ad in the local newspaper, inviting everyone to join the church choir in the Zagreb cathedral. The ad promised "Your voice in gramophone!" Hundreds of people gathered, together they sang two Croatian Christmas carols. Those are Narodi nam se and Tebe Boga hvalimo. If you wish to hear the recording, no problem at all! They are published as a part of the digital archives of Croatian National and University Library.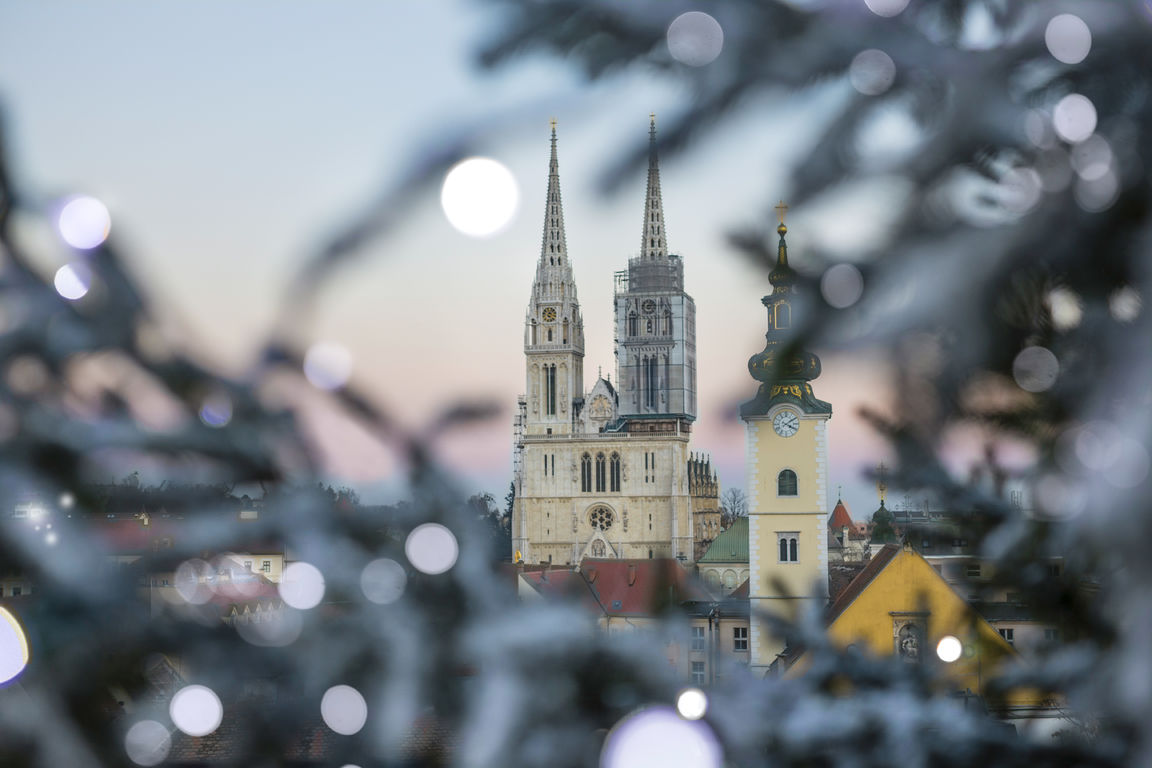 Zagreb cathedral welcomed the singers for the first public recording in Europe. Photo by A.Markezić, TZGZ
The technology for recording voices already existed when a world-known Croatian opera singer Milka Trnina, sang her divine tunes. Unfortunately, she hated how her voice sounded on the records. That's why we will never hear the sound of her voice. We can only trust the overwhelmed descriptions. She was born just a few days before Christmas, in December of 1863. She also sweetened a lot of Christmases, if that old rumor is true, that the famous Milka chocolate was named after her.
Nutcrackers in front and within the Croatian National Theater in Zagreb. Photo by S. Carek, TZGZ
When it comes to classical music, there is a piece that has grown into a symbol of Christmas. It's Nutcracker, the ballet. Croatian National Theater in Zagreb offers multiple performances of the most Christmassy ballet each December. They sell out the tickets immediately after their release.
Music in Oktogon passage. Photo by S. Kaštelan, TZGZ
When you walk around the Zagreb Christmas markets, you might hear a few Croatian songs, but don't be surprised to hear a lot of familiar sounds, too. Christmas pop songs travel the world, and Croatia loves them, too. This year's Advent in Zagreb has prepared so many charming musical surprises. From Christmas caroling with the lamplighter to rock concerts. Make sure to check out the official Advent Zagreb website, and you won't miss a single note.
Photo by Boška i Krešo, TZGZ
Header image credit: Boška i Krešo, TZGZ
Author: Iva Silla