Explore Zagreb's Markets and Find out Why They're So Interesting
Prepare your taste buds for fresh local food from Zagreb's markets and many other interesting products!
If you're a foodie and you enjoy cooking homemade meals from scratch like me, Zagreb's markets are a perfect stop to buy locally grown food. You'll find more than 20 markets since almost every neighbourhood has one. The markets open in the early morning hours with sellers eagerly waiting for their first customers who are looking for delicious local products such as cheese and cream, fruits, vegetables, meat and fresh fish from the magnificent Adriatic Sea.
Zagreb has a special bond with the culture of buying local products at the markets because the history of the city itself and the accelerated development of it are literally based on the exchange of products at the early markets which are the forerunners of today's markets. A large number of Zagrebians, regardless of the existence of large shopping malls, continue to buy their food and other products at the markets that are well-known for the famous female sellers popularly referred to as ''Kumice''. ''Kumice'', as a word, can be translated as ''godmother'' and in the context of the Zagreb's markets, they are dear women, often with a scarf on their heads, that successfully attract their customers with charm and recommendation for the best products at their stalls. They have long work experience and significant experience of working with customers so you can't fool them. They know exactly whether you are a real customer or just a random passer-by. Zagreb's markets have a special significance, and they represent the soul of the city. ''Kumice'' are certainly part of that soul. For centuries, they were named the feeders and guardians of the city.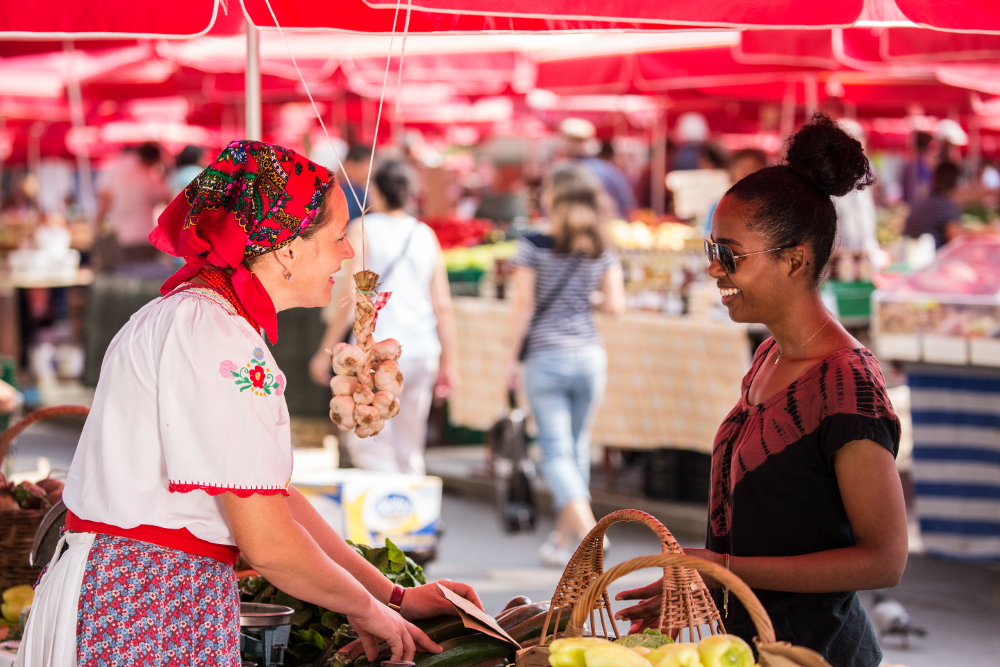 Image Credit: Marko Vrdoljak, TZGZ Download Zone
In addition to food, you can find whatever your heart wants at Zagreb's markets, from clothing to souvenirs, household supplies to beautiful freshly picked flowers, all well incorporated with a joyful atmosphere that'll make you smile all day. What's particularly interesting about Zagreb's markets is that they are not just a place for shopping but a place where you meet your friends and family. Another fun fact about the markets is that you can find numerous mailboxes called ''Mailbox of Trust'' where customers & visitors can put their written questions, remarks, suggestions, etc. to provide information to the city authorities on what to improve.
Where to find Zagreb's farmers markets?
The largest and most popular market is Dolac, but there are plenty of smaller well-stocked markets such as Kvatric, Branimirova, Britanac, Utrina, Tresnjevka and others. With its rich offer, Dolac attracts both local customers and tourists of all ages. In fact, Dolac is an unavoidable tourist attraction as well as the cultural part of Zagreb which has more than 190,000 visitors per week. If you visit Zagreb, you won't miss Dolac, because it's located just behind the Ban Jelacic main city square. Over there you'll find a lot of sellers coming from all over Croatia to sell their products. Dolac is a buzzing centre of market activities since the 1930s when the city authorities decided to set up a market on the 'border' between the Upper and Lower Town of Zagreb. Kvatric market is one of the most exciting and famous gastronomic places in Zagreb today, located near Kvaternik Square. Although it's not the prettiest one, the offer is quite amazing. Except for ordinary products, Kvatric market is known for high-quality mini stores where you can buy products like meat, goat cheese, pršut (Eng. smoked ham), which will be cut right in front of you, or even tea and spices from an outstanding Harissa store. Also, typical everyday products like fruits, vegetables, eggs are also of high-quality due to families that carefully grow or produce them to sell here. Branimirov market is also one of the most popular city markets. At the market, you can buy fruits and vegetables, meat, eggs, pasta products, bakery products, flowers, medicinal herbs, tea and oats, honey, seeds, and sweets. Yummy!
Image Credit: Tajana Pran
Britanac market became a well-known gathering place for lovers of antiques and collectors, giving the British Square a new cultural cloak. If you want to buy rare items for your collection or a unique gift for a dear person, you won't be disappointed. On Thursdays, from 7:00 to 18:00 you'll find a porcelain, glass, ceramics and jewellery fair. Fridays are reserved for ''LIBERPLAC'', the fair of used books, from 7:00 to 18:00. Weekends are the stars of Britanac market all due to awesome fair filled with one-of-a-kind antiques & art stuff. Utrina market is the largest market in Novi Zagreb. Located along the Dubrovnik Avenue, it is well connected with the rest of the city by public transport. The thing I like about Utrina market the most is because it's somewhat intimate and a handful of mini stores mixed with stalls make it really charming. Tresnjevka market is one of the biggest ones in Zagreb, as you can find a wide range of products there - from tasty locally grown vegetables and fruits, all the way to the clothes, flowers, and souvenirs. Tresnjevka market is filled with small fast-food stalls where you can taste the most delicious ''Cevapcici'' (Eng. small minced meat sausages) or ''Burek'' (Eng. pastry with meat, cheese or sweet filling). After a tasty meal, don't forget to buy beautiful flowers or souvenirs!
Zagreb's markets are specific because they combine both products of local producers and many other lovely non-food products. I like to think about them as charming open-air malls that have a unique, relaxed atmosphere where I feel like home. More importantly, markets aren't just for shopping, here you meet your friends, negotiate, bargain, laugh. Is there a better place to spend Saturday morning?
Header Image Credit: J. Duval, TZGZ Download Zone
Author: Tajana Pran