A Foodie Day Out in Zagreb
I've often had the pleasure of taking foreign visitors for foodie walk tours of Zagreb, to introduce them to our local gastronomy and culinary tradition in direct encounter. In this challenging year, there are obviously less tourists exploring Zagreb, but that doesn't mean that the city is dead and there's nothing to experience.
On the contrary, life goes on and the locals go through same old routines. In hope of better days to come, I'll share a walkthrough guide on how to eat, drink and socialise like the Zagrebians do. All you need is a healthy appetite, open mind and some money, of course. Reserve a day for pampering yourself, while also learning a lot.
Slika 1. "Warm bučnica and coffee, you couldn't ask for a better breakfast in September." Image credit: Taste of Croatia
Start in the morning, not too early, ideally around 9 o'clock. We're not too creative when it comes to breakfast on the go, most people just grab something from a bakery. Coffee is crucial in the morning, and it can't be on the go. I prefer a nice cup of artisan coffee, so I'd send you either to the legendary Eliscaffe near Britanski Square, or Cogito coffee in Varšavska or Deželićeva Street. If you would rather sit down for a proper breakfast, go to Dežman bar in Dežman Passage, one of the nicest and quietest little streets in central Zagreb. They have a great bučnica, a savoury squash strudel typical for this region. Now you have enough energy to walk around for a while, spend it on sightseeing.
Slika 2. "Dolac Market is the must-see place number one for any foodie." Image credit: Taste of Croatia
This is also the best time to do a tour of Dolac, Zagreb's central market, standing on the same spot since 1910. It's divided into the outdoor section, an indoor section consisting of two halls, and a separate fish market. Soak everything in, smell, touch, taste, start a conversation. Don't forget to take a selfie with the statue of kumica at the top of the left stairway – a sign of gratitude to all the hard-working peasant ladies from villages around Zagreb who have been feeding the city with their produce for decades. It's almost noon and it's perfectly fine to have an aperitif now, a good homemade brandy, or rakija as we call it. Cheese Bar just off Jelačić Square is your place, one of the popular meeting spots for local socialites. Savour every sip, and spend an appropriate amount of time just staring around and gossiping. If you're more an alternative type of person, go to Krolo bar, a relic from the 1980s that's very hip again.
Slika 3. "A rakija before lunch, that's like medicine." Image credit: Taste of Croatia
It's time to fill the tummy with something tasty and local. Head to La Štruk above Dolac, a lively little place dedicated to štrukli – one of the most iconic regional dishes. Be sure to try the standard, traditional baked štrukli, but you can also have a go at one of the upgraded versions. Now you are ready to do a wine tasting. Not many visitors know it, but there are several prominent wine regions around Zagreb. Book a table at Bornstein wine bar & shop in the old town, and have a flight of local wines according to your preferences. Don't be shy, the staff will be happy to guide you. It's important to know when to stop, so be careful. In case you're not that into wines, you can do a craft beer tasting instead. In the beautiful back garden of Medvedgrad Brewery's pub in Ilica Street you can taste their beers and have some local snacks. Or go to the beer geek heaven called Valhalla in Radićeva Street. At first sight, it's just a heavy metal and Norse mythology themed bar, but soon you'll realise they have an amazing selection of local and foreign craft beers, both on tap and bottled.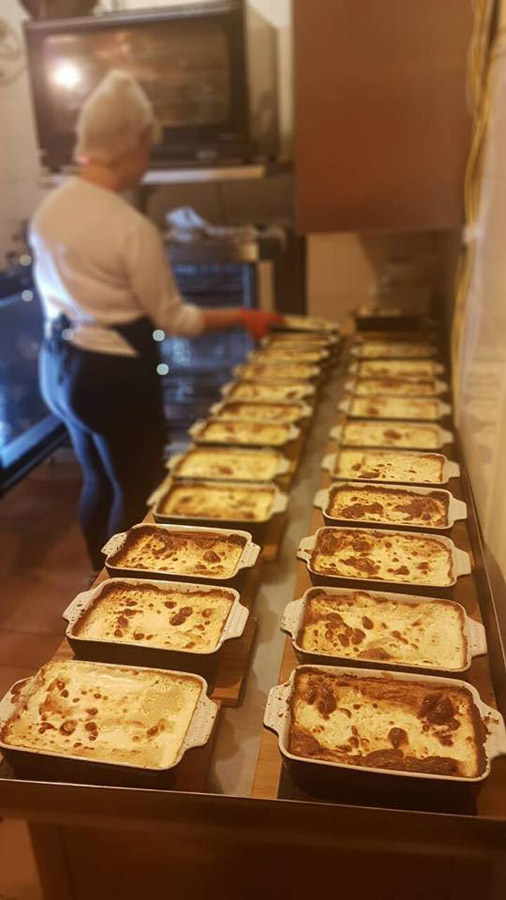 Slika 4. "These baked štrukli will make many people very happy." Image credit: Taste of Croatia
Finally, for the grand finale, you deserve a long, slow lunch. Ficlek, under Dolac Market, is a modern version of an old Zagreb eatery, focused on nothing but local and traditional dishes, some of which it is almost impossible to find outside a granny's kitchen. Sit down, relax, have a gemišt (white wine spritzer) and enjoy several courses, depending on the season. If you want a more upscale experience, but again not over the top, pick Vinodol restaurant. They do elaborate and just a bit modernized versions of all-Croatian traditional dishes, but there's always a few options representing Zagreb and surroundings. It's alright to have a dessert at the same place, but if you want to walk it off a bit, skip dessert and wait until you reach Orijent pastry shop in Jurišićeva Street. Choose whatever your heart desires, but bear in mind that they have one of the best and certainly most creative ice creams in Zagreb. If you're still standing, it's time to ask yourself a question – another rakija as a digestif? Hell, yes!
Slika 5. "Socialising at the table starts with cold appetizers." Image credit: Taste of Croatia
From my personal experience, after a gourmet day like this, everyone just goes straight to their place for a nap and they cancel all their dinner plans. You should be completely full, but also full of long-lasting impressions. Admittedly, an average Zagreb person doesn't eat and drink like this every day, but let's call it an advanced-level crash course. If you survive, you're one of us.
Slika 6. "Whatever happens, try to stick it out to dessert." Image credit: Vinodol FB
Header image credit: Gostiona Ficlek FB
Author: Morana Zibar / Taste of Croatia